Kitchen Ventilation Systems Ireland


Kitchen ventilation systems in Ireland - Quiet Kitchen System
Allow yourself to homely and cozy kitchen free of annoying noise coming from the cooker hood. Motorless cooker hood connected to VILPE® roof fan is perfectly quiet kitchen. The innovative solution developed by VILPE® company from Finland, allows to create a comfortable and efficient solution to exhaust ventilation of the cooker hood.


Main features and advantages of the Quiet kitchen:
Unique solution ensuring noiseless hood operation.
Extractor with exceptional efficiency thanks to the high performance of the roof fan.
A system that is easy and simple in installation, also to be used for modernization of a traditional ventilation solution.
Convenient control of the fan operation (a compatible combination of a fan on the roof with a motorless extractor hood offered in Silent Kitchen system).
Solution available for every type of roofing material and every diameter of the ventilation duct, also for brick duct.Guaranteed 100% water tightness and durability of the system thanks to the highest quality products to be installed on the roof.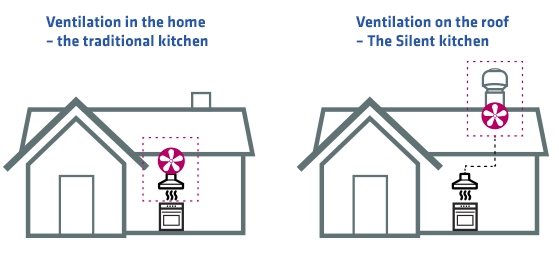 For the system installation you would require following selection of products:

We provide our warranty for most of our kitchen ventilation solutions. All our customers will get an expert advice, competitive pricing, wide product knowledge and exceptional customer service. We offer daily nationwide delivery service of our products across Ireland from our Dublin warehouse.

Please let us know if you have any questions or product inquiries. Call us on 01 4845199 or submit your request via Contact Page