FLEXITEC 2020 System Training Day 2021
17/09/2021
UR NEXT FLEXITEC 2020 SYSTEM TRAINING DAY - SEPTEMBER 17th
Complete the Res-Tec Flexitec 2020 Training Day and unlock the 20 Year Material guarantee!

Learn the best way to apply the system to minimise the time spent on a roof whilst maximising your workmanship quality.
Receive a training Certificate with your unique Training ID Number giving you access to the Res-Tec 20 Year Material Guarantee.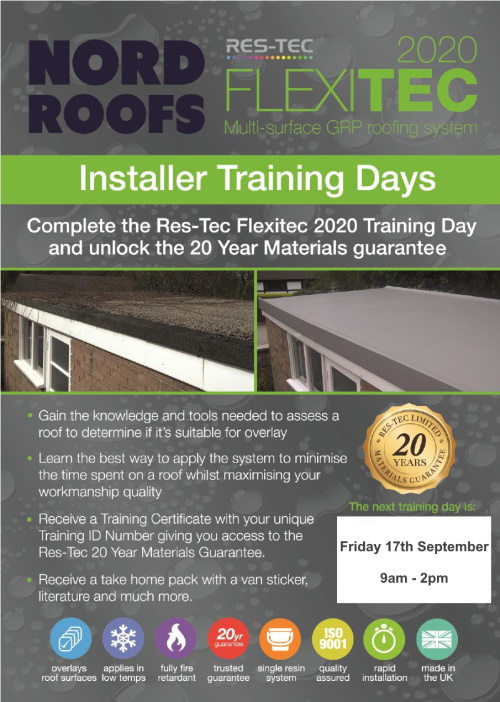 Benefits of using Flexitec 2020 system:

Similar to GRP fibreglass, Flexitec 2020 is genuinely rapid-curing (30 – 60mins walk-over time) with an extra-tough finish. Similar to liquid overlay systems it's flexible and can coat a range of roof surfaces.
Can be applied to almost any roof surfaces including felt, asphalt, concrete, GRP, PVC single-ply, metal details and approved insulation boards
Single resin system that can be repaired / overcoated without grinding down
Fire tested to BS 476-3 Rating: F.AA and EN 13501-5(4) Rating: BROOF(t4) – the highest rating a flat roof system can achieve and allowing for unrestricted use under UK regs.
LABC Registered Detail certified (Certificate No.EW1000), ensuring compliance with the latest building regulations.
Applied as a one coat (10 year repair system) or two coat (20 year roofing system) system
Highly flexible and suitable for any size or shape roof without the need for expansion joints
Extremely rapid installation with walk-on times of 30-60 minutes
Uses 225g/m2 fibreglass CSM for extra tough membrane that lasts decades
Installations by trained installers of the two-coat system are supported by Res-Tec's trusted 20 year materials guarantee
Anti-slip finish available for balconies and walkways
Cold applied for maximum safety – no risks from open flames and other hot works
Suitable for application in temperatures as low as 1°C (with winter accelerator) or as high as 30°C
Totally seamless membrane – no joints, no welds, no weak points
Manufactured to ISO 9001 and ISO 14001 standards for consistent quality